Mortgage Information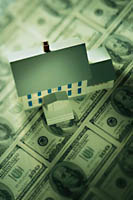 If you're like most buyers, a home is the most expensive purchase you'll ever make, and you'll probably need some form of financing.
Many lending institutions offer a variety of mortgage products,but not all of them do a good job. Not only do financing options and rates vary day-to-day and lender-to-lender, but so do closing costs charged by lenders. And, in Maryland, loan officers are required to be licensed by the state to avoid fraud issues.
While it is important to do your research and shop around to ensure you get the mortgage that best meets your needs at the best price, it's also important to get a qualified lender. Usually, that means avoiding the Internet-based lenders (which may be located outside the United States even though they claim a local address!), and the come-on schemes of ads. In fact, some so-called lenders are scam artists who charge application fees and disappear, or who steal your identity as they ask for personal information.
We have a great list of experienced, trustworthy lenders who have taken care of our clients for years. They answer questions, help you find the best loan program for your needs, and make sure the mortgage is funded at settlement.


---
Mortgage Payment Calculator & Amortization Table
This calculator will help you determine what your mortgage payments will be based on purchase price, interest rate and mortgage term, as well as other factors. The amortization table shows what the interest and principal payments will be over the term of the mortgage.